In Japan, the Coming of Age ceremony "Seijin-shiki" is an annual event that celebrates the introduction of new adults into society. After reaching the age of 20, one is legally considered an adult in Japan. To celebrate the youth's coming of age, there is a ceremony in every district all across the country.
The modern legal age of adulthood was decided in 1876 and the one-day ceremony has been a public holiday since 1948. Everyone who turned 20 years old the previous year is invited to the ceremony in the district they grew up, which in most cases is the location of their high school.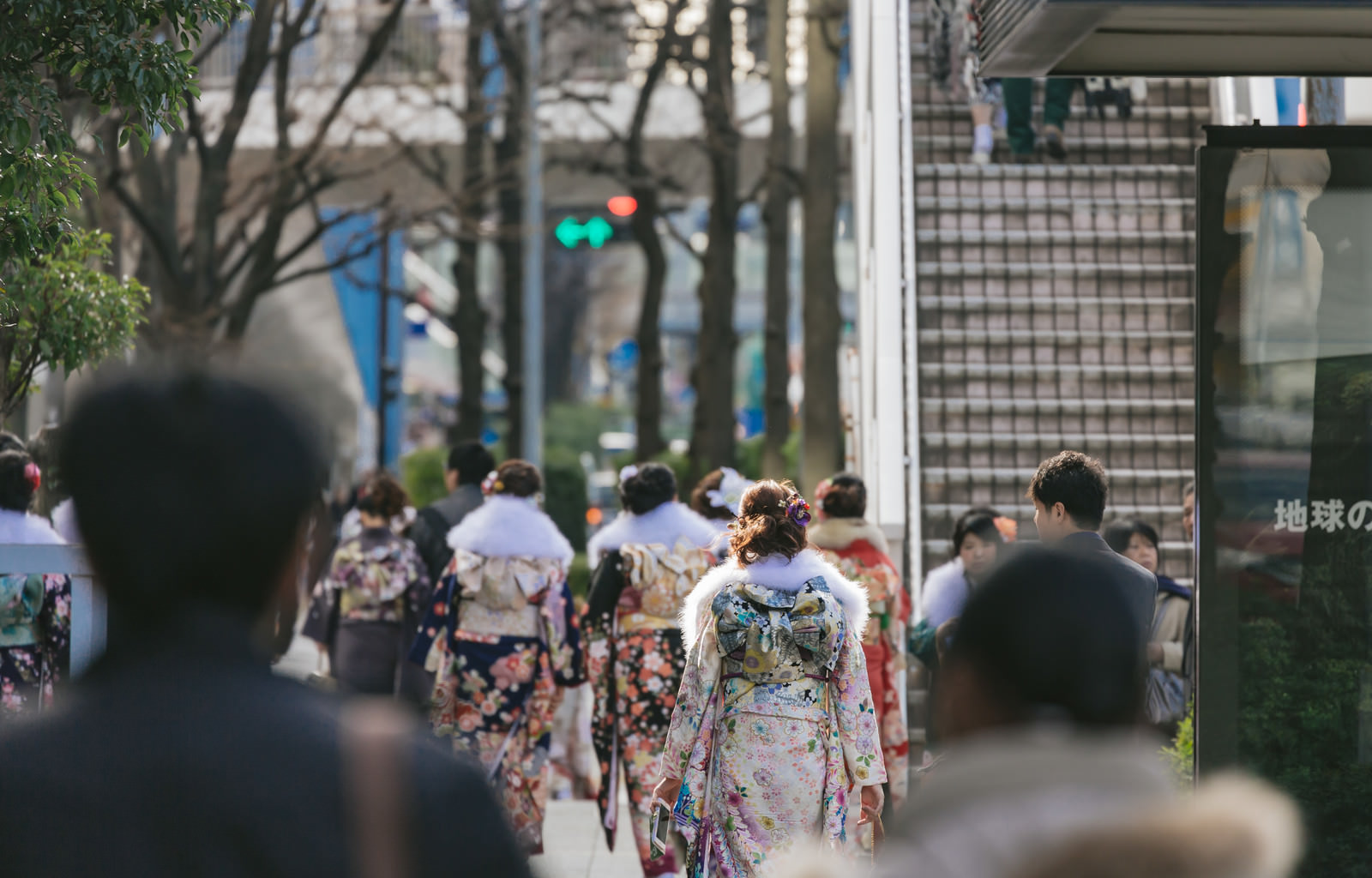 Most woman dress in elaborate kimonos for this occasion with their hair and face made up to look their very best. The specific kimono "furisode" is a long sleeved dress worn by unmarried women on this day. Kimono rentals are efficiently arranged especially for this occasion; with 'kitsuke' dressing services to assist with the difficulty of dressing yourself, and hair and makeup appointments booked from early mornings on the day of the ceremony. Although it is not commonly practiced in recent years due to the tedious and costly maintenance, it is part of the Japanese tradition to wear a piece of 'furisode' handed down by your family members.
A slight contrast for the men, most tend to keep it sharp and simple with a business suit, although some do attire themselves in a "hakama", another type of kimono. Young females flourishing in to womanhood, coming of age – as well as their visual presentation – connote a more significant time for woman, historically related to marriage.
As the generations shift, traditions also fade as attendance for the ceremony in city halls and official centers are decreasing. An audience of 4,300 new adults gathered for Shibuya's ceremony 20 years ago, whereas only 1,300 were seen in 2016. The cost to attend and dress is one matter, although the focus of recognition to adulthood may be focused less on the number of years alive.
Nonetheless, ceremonies are held across the country in city halls, ward offices, and other official centers. Large cities will host several; in Tokyo, the ceremonies at the Shinjuku and Shibuya Ward offices are some of the biggest and receive a lot of media coverage. Fukuoka is reputable for its unique and extravagant culture on this particular day.
The celebratory transition into adulthood does not only involve dressing up and posing in front of the camera, but is an opportunity to appreciate your roots and upbringing. Students who left home for university or those who moved in to the city to work – regardless of your status or career path – all go back to their hometowns to show their respectable, grown-up self. Attending parties organized by your home school, catching up with teachers and friends evidential of one returning back as an adult – is all part of the beautiful circle of life.