History
Kyushu University, also known informally as "Kyudai", is one of Japan's top national universities located on the island of Kyushu in Fukuoka. Founded in 1903 and rebranded as the Kyushu Imperial University in 1911, Kyushu University was the fourth imperial university in Japan. The first school established at the institution was the Fukuoka Medical College, but today, there are a wide variety of different faculties from the School of Law, School of Design, and School of Economics. Kyushu has 16 faculties, 11 undergraduate schools and 18 graduate schools in total. In addition to its world-class departments, Kyushu is home to a number of research institutes such as the Research Institute for Applied Mechanics, the Institute of Health Science, and the Research Institute for East Asia Environments.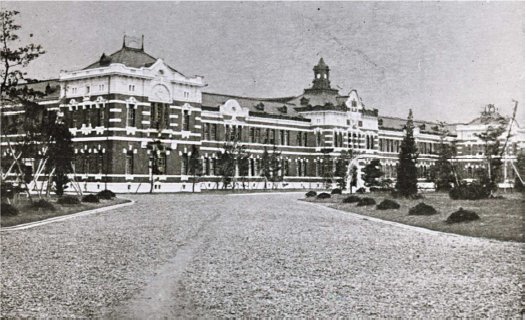 Kyushu University Ranking
According to Times Higher Education, Kyushu University ranks 5th in Japan. The university is open to the idea of including international students as a part of their student body population, and its 12% acceptance rate of foreign applicants speaks for itself.
For more useful information regarding Kyushu University, take a look at the Kyushu University Community Page.
Campuses
Kyushu University has campuses located all around the bustling city of Fukuoka. They are named Ito, Hakozaki, Hospital, Ohashi and Chikushi. The Chikushi Campus is popular not only because it is where the Interdisciplinary Graduate School of Engineering Sciences, the Research Institute for Applied Mechanics, and the Institute for Materials Chemistry and Engineering can be found, but because it's set in a quiet residential area that has convenient public transportation which takes students to the heart of Fukuoka in just 30 minutes.
In fact, the Chikushi Campus is only five minutes away from the Onojo station with the JR Kagoshima line. The official flagship campus of Kyudai is the new Ito campus, which opened in 2005. Ito lies in the west side of Fukuoka city, specifically in the center of the Itoshima peninsula. Additionally, the Ito campus belongs to Kyudai Gakken-Toshima-Ku, a purely academic town in Fukuoka. This means that the Ito campus has the largest area of any university in Japan. The Ito campus is where the Engineering Department and the General Education Department is located. As such, many first and second year students take classes here.
Since 2011, the Inamori Center has provided Kyushu University with an area for "education and research contributing to the society along with deepening international exchanges of people." Kyoto Prize Library is on the first floor of the Inamori Center, and "Inamori Hall", a conference space, is on the same floor where meetings for research and cultural exchanges with researchers from universities or research institutions all over the world are held. The second to the fourth floor of the Inamori Center building holds the Inamori Frontier Research Center, that focuses on "contributing to a safer and more secure society in the future and to a harmony with human beings, human spirits, and technologies." The purpose of Inamori Center is to bring to life the top priority of Kyushu University, which is to promote both education and research as well as international and regional exchanges.
Student Accommodations
Dormitories at Kyushu University are inclusive environments that encourage community building. Ito Campus hosts several dormitories that are all international dormitories. Students from all over the world and from all schools and grade levels live under one roof in order to form close-knit relationships with each other while being advised by dormitory leaders.
On-Campus Housing
Dormitory 1, set in the center of Ito Campus, is most noted for its 1:1 ratio of international and Japanese students. All rooms are singles, and male and female graduate students, including international students, are allowed to stay here.
Dormitory 2 is a five minute walk from campus. It has an 8:2 ratio of Japanese to international students. All rooms are singles here as well, and most of the students living here are male and female graduate students, including international students, and married international students.
Dormitory 3 is comprised of shared rooms that have four people per unit, meaning two international students and two Japanese students per unit. Living spaces each have a toilet, bath, kitchen, and dining room that are shared between their inhabitants. Students who live here are mostly male and female undergraduates, and male and female graduate students. Ito Harmony House is located about 15 minutes away from Kyushu's campus and holds 581 rooms. There is a 1:1 ratio between Japanese and international students here, and each student gets their own room as well.
Off-Campus Housing
Besides the above-mentioned dormitories, Kyushu University also provides many locations for off-campus housing. These special dorms are located in a variety of neighborhoods, so you can definitely find one that suits you.
Make sure to learn about each housing option in detail from the official university housing page.
Degrees Taught In English
Kyushu University has partnerships with more than 100 international universities involving study abroad programs for its undergraduate and postgraduate student body, and it's also holding membership within the Top Global University Project in order to increase its global competitiveness. As a result, Kyudai has several four-year undergraduate degree programs available in English, which are Bioresource and Bioenvironment and Engineering.
Engineering is divided into the categories of Electrical Engineering and Computer Science, Applied Chemistry, Civil Engineering, and Mechanical and Aerospace Engineering. Bioresource and Bioenvironment students can choose to focus on one of four categories, which are Agricultural Resources, Engineering and Economics, Applied Biosciences, Animal Resources, and Forestry and Forest Products. Kyushu University's goals has always been "to provide the highest levels of education, research and medical activities," and because of its involvement Top Global University Project, it will be able to carry out this goal through its English degree programs.
Visit the university's English Programs page for more details
Japanese Language Program
At Kyushu University's International Student Center, international students, from undergraduates to postgraduates, are able to take various Japanese courses of their choosing. All Japanese courses from beginner to advanced levels can be taken at the Ito, Hospital, Ohashi, and Chikushi campuses. Japanese Academic classes, Fundamental Subjects for Language and Culture seminars, and Japanese training classes can be taken at the Ito campus. Comprehensive Japanese language classes are available at the Hospital and Ohashi campuses, and extracurricular Japanese electives are offered at the Chikushi. Furthermore, undergraduate international students have the opportunity to take the twelve-month Japanese Language and Culture Course program, which "provides advanced language training, supervised research opportunities, and courses taught in Japanese." Students enrolled in the JLCC program have the option to take unique Japanese Language and Linguistics classes and Japanese Culture and Society courses.
Scholarships
Kyushu University has a huge amount of scholarships available on its financial aid page. If you plan on applying, check here for all the important information here!The page is updated frequently, so students or potential applicants can see which scholarships are available to apply for as well as their end dates. There are simply too many for us to write about, so visit the website and find yours now!
Kyushu University Scholarships 2019
Review
In summation, Kyushu University is a well-rounded institution abundant in academic resources for the research-minded pupil. With multiple campuses, a wide range of housing options, and a strong roster of scholarships to apply for, applicants shouldn't feel like they need to fight for funding, as they can find a living situation that suits them. For students who are particularly dedicated to studying medicine, engineering, or science, Kyushu University is undoubtedly the perfect fit.
To get all the latest news and hear what enrolled students have to say, visit the Kyushu University Community Page!