Why the Kyoto University?
Kyoto Imperial University was founded by imperial ordinance on June 18th, 1897 as the second university to be established in Japan. It is the largest university in the nation with 10 faculties, 18 graduate schools, and 13 research institutes. The Faculty of Engineering is the most popular, with enrollment of over thirty percent of the entire student body!
The Kyoto University has a mission to sustain academic freedom and to realize the harmonious coexistence between humans and the ecological community. Reflected in its history of winning administrative autonomy from the government in 1919, the Kyoto University values freedom and autonomy in research that conforms with high ethical standards. As the university's most flourishing faculty, the Faculty of Engineering established the Undergraduate International Course Program for Civil Engineering (ICP) in 2011 as an English-based undergraduate degree program at the Kyoto University!
Read on to find out the admission procedures, course outlines, cultural benefits, and other general overviews of the ICP!
About the Undergraduate International Course Program for Civil Engineering (ICP)
The ICP is a four-year international course in English that leads to a Bachelor of Engineering degree from the Undergraduate School of Global Engineering. The course aims to cultivate professionals capable of designing civil infrastructures that takes into consideration societal and environmental issues.
What is Civil Engineering?
Civil Engineers improve the quality of daily life by designing safer and pleasant communal spaces. In general, Civil Engineering consists of four main sub-disciplines: structural engineering, hydraulics, Geo-technical engineering, and infrastructure planning.
Structural Engineering concentrates on the basic structures of human society. Common examples of such structures include roadways, pipeline systems, and railway bridges.
The study of hydraulics focuses on the water-system management, flood hazard mitigation, and the maintenance of large bodies of water surrounding the human society.
Geo-technical Engineering focuses on the application of earthly materials, such as soils and rocks, in the field of engineering. It breaks down the physical-chemical conditions of the subsurface, the dynamic behavior of soils, and the effectiveness of specific landscapes for varying structural uses.
Infrastructural Planning has the role to assess potential future scenarios and use them to devise architectural policies. This aspect of civil engineering requires students to develop a wide range of knowledge in order to link the mechanics of engineering with real-life applications.
With these four academic disciplines under the belt, students will be equipped to lead the construction of a safer and more comfortable global society on a broader scale!
Tuition and Financial Aid
The program tuition is ¥535,800 per year. There is an additional one-time admission fee of ¥282,000 and an application fee of ¥17,000, as well. To cover these financial costs, the Kyoto University offers a selection of scholarship options, such as the MEXT Scholarship, the JASSO Scholarships, the Scholarship for Undergraduate International Course Program, and other privately funded scholarships.
Admission
In order to enroll in April, applicants must start their application process in February of the preceding year. The program admits 30 students per year.
Applicants must satisfy the following requirements:
Must NOT have Japanese citizenship
Must have completed or be expected to have completed 12 years or more of primary to secondary education [or equivalent] in a country outside of Japan OR at an educational institution located in Japan which is based on a foreign country's education system.
Step 1: The Examination for Japanese University Admission for International Students (EJU)
The EJU is a standardized test offered by JASSO to international students to evaluate their Japanese language skills and the basic academic abilities needed to study at a given institution. Typically, applications for the EJU are open from mid-February through mid-March, and the actual tests take place in June of that same year.
Step 2: Preliminary Verification
In this step, the faculty scans each applicant to ensure that their educational records meet the minimum requirements of the program.
Typically, the document submission period is from late June till early July, and the results are released in late July.
Step 3: Application for the International Course Program
In this final step, the applicants must submit their documents specifically for the International Course Program. The application submission period lasts from late August to mid-September. The results for the first screening is announced in early October, followed by an interview for successful applicants in late October. The final results are released in November, and successful applicants will enroll in April of the following year!
Curriculum
The curriculum of the International Course Program is made up of 6 pillars, each of which contributes to developing well-balanced and worldly students.
The first pillar is Advanced English and Japanese, which focuses on communication skills. This pillar is geared towards students in the first and second year. Examples of coursework include debates, class discussions, presentations, and reading and writing exercises. This pillar allows students to gain the ability of self-expression in a professional environment.
The second pillar is the Liberal Arts Subjects. It is geared towards first and second year students, and it includes a wide variety of subjects and topics. The purpose of this pillar is to develop well-rounded individuals who can utilize their academic knowledge in practical situations.
The third pillar is the Basic Science Knowledge. It is also geared towards first and second year students. Classes include Information Processing, Math, Physics, Chemistry, Geo-science, and Probability and Statistics. This pillar ensures that the students have a strong foundation in mathematics and sciences as a foundation for advanced engineering topics.
The fourth pillar is the Advanced Civil Engineering. This pillar develops specialized knowledge in Structural Dynamics, Soil Mechanics, Hydrology, and Infrastructural Planning. These courses are taken by second and third year students who have been exposed to one year of preliminary communication, liberal arts, and basic science courses.
The fifth pillar is Practical Problem Solving. This pillar is designed for second to fourth year students, and it includes international internships and other practical exercises. These courses become the students' initial exposure to the professional environment.
The sixth and final pillar is the Graduation Research. This pillar is taken by students in their fourth year and is the culminating project from the past four years of university classes. Students may decide their specific topic based on the knowledge that they have developed throughout the program.
Student Life
In order to accommodate its international students, Kyoto University has taken various measures to ensure a vibrant and comfortable student life.
On Campus
The "KI-ZU-NA" Student Lounge is a space on campus for students to interact and create bonds that go beyond international borders. Students can engage in a relaxing chat with other students or participate in activities hosted by the "KI-ZU-NA" Student Lounge.
Cafeteria Renais is one of four cafeterias at the Yoshida Campus, and it is unique for its international quality. Their menus have various cuisines that range from traditional Japanese to Chinese, Western, and even Halal foods. Additionally, English translations are provided for each item on the menu to indicate its description, components, and allergy information. How helpful!
There is also a Library of Global Learning that provides books in English for civil engineering subjects, Japanese language learning, and travel guides!
Off Campus
For first-year students, the Kyoto University provides an international dormitory option at the Misasagi International House, around 4 kilometers away from the Kyoto University Main Campus. While prices vary by the type of unit, a Single room that includes water, internet access, bedding, electricity, and gas costs ¥18,600 per month.
Kyoto University also ensures access to English speaking staff and upper grade tutors to assist international students with both academic and practical problems.
Aside from the university's international support systems, there are also local organizations that foster the international community, such as the Kyoto City International Foundation (KCIF). This foundation assists international residents and students in coping with life in Kyoto through various activities including consultations, language support, and cooperation with other organizations.
Cultural Exposure
Outside the Kyoto University's campus, the surrounding environment is a cultural experience in and of itself! Kyoto is considered one of the most culturally rich areas in Japan, being the origin point of various traditions like the Geisha culture, tea ceremonies, Edo-style kimonos, and Shodo Calligraphy.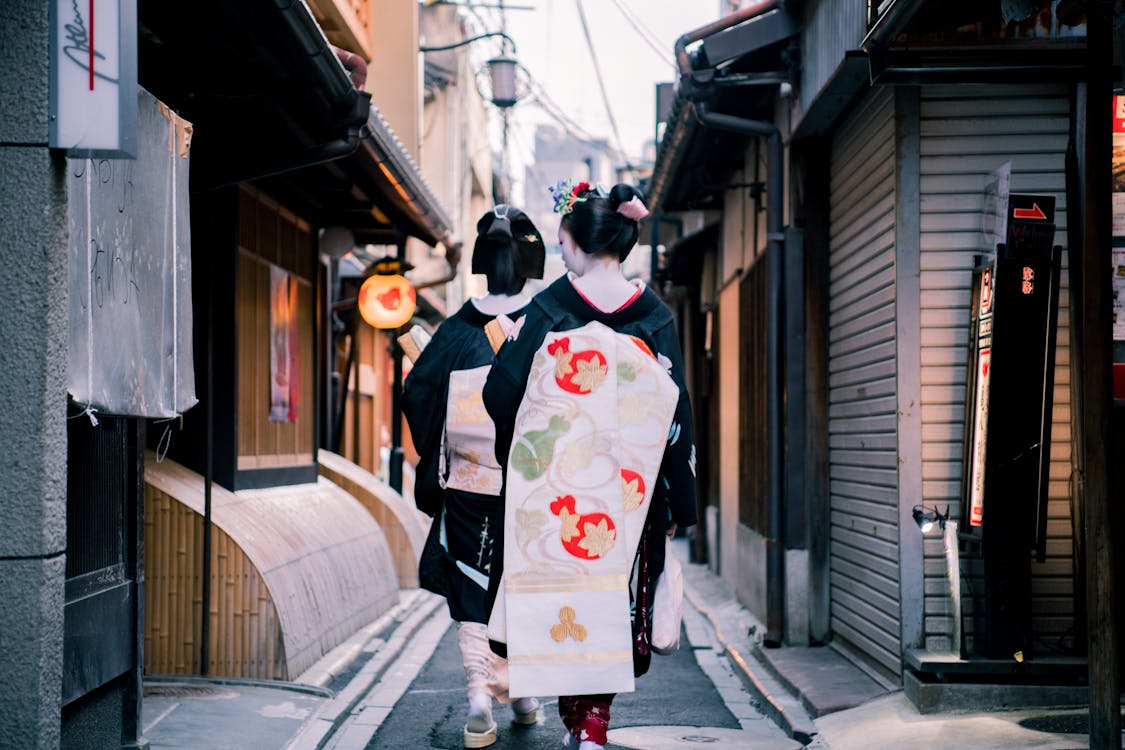 As a student in Kyoto, one must definitely plan a trip around this cultural hub! From temples and castles to gift shops and restaurants, the options for sightseeing are endless!
After the Program…
The fun doesn't need to end there! After earning a Bachelor's Degree from the ICP, students have the option to continue their studies under the Post-graduate International Courses Program offered by the Faculty of Engineering. There are two types of graduate programs: the International Course in Management of Civil Infrastructure and the International Course in Urban and Regional Development. One must note, however, that in contrast to the undergraduate program's capacity of 30 students, the graduate counterpart only accepts 12 students. But don't worry! With an undergraduate degree from such a well-rounded program of the prestigious Kyoto University, any graduate of the ICP is bounded to find success in their bright futures!
For more information, you can visit the ICP's official website referenced below. Happy readings!
References
Asano, John. "Five Traditions Unique to Kyoto." Culture Trip, The Culture Trip, 5 Feb. 2017, http://theculturetrip.com/asia/japan/articles/five-traditions-unique-to-kyoto/.
"Examination for Japanese University Admission for International Students (EJU)." JASSO, www.jasso.go.jp/en/eju/index.html.
Kyoto City International Foundation, www.kcif.or.jp/en/.
"Kyoto University." KYOTO UNIVERSITY, www.kyoto-u.ac.jp/en/.
Undergraduate International Course Program of Civil Engineering, Kyoto University, www.s-ge.t.kyoto-u.ac.jp/int/en.