Article Updated: May 2023
Why study Business in Japan?
The business and finance sector in Japan puts a lot of stock into one's alma mater.  The ability to have graduated from a prestigious university is considered a grand social statement to some effect, more so than it would in most other cultures.  One aspect of this way of thinking is the sheer difficulty it takes to get into one of the more prestigious business schools in Japan, the majority of these lying in Tokyo.  Most of the schools that I will be mentioning have an acceptance rate of around 20-30%, a small portion when considering that entrance examinations are quite extensive and expensive, thus students and their families are rather conservative as to which schools to apply for. The attractiveness of prestige is a large motivator for this competition as many of these schools have a heritage of exclusivity.  Once in, however, it is generally noted that getting into the programs is the tricky bit as if you're smart and dedicated enough to enter, university life should be more about developing your social life than being a bookworm.  Business culture in Japan is based upon relationships, and though knowing the vocabulary is important, treating those you work with and for properly is paramount.  So, if you'd like to delve into the world of Japanese business, I would recommend learning Japanese, not just the language but its ethical code.
The rankings that I'm following in this article are all from sources that grade schools according to an international ranking system. For those of you reading this, you're in luck since a greater portion of these ranking systems has accounted for a university's internationality in recent years.  Thus, to keep from slipping, Japanese universities (as well as universities around the world, I'm presuming) have dedicated more resources to the improvement of their international programs and accessibility. Perhaps it is natural that the six listed below are all universities in Tokyo, the metropolitan center of Japan. Some of these programs are quite new and some are more well-established, but no matter the case all these institutions have excellent pedigree.
6 of the Best Undergraduate Universities in Tokyo to study Business
Hitotsubashi University is a national university, something that is not all that common for hosting English-based business programs. It is also unique as it is the only Japanese nationalized university that only hosts classes in the humanities. Typically national universities in Japan garner a reputation from research done in the STEM fields; the fact that
Hitotsubashi is still highly regarded nonetheless is impressive. Hitotsubashi University started its internationalization campaign in 1996 from what is now its Center for Global Education and Exchange. At the time it functioned as a means for internationals to study abroad at the university, and over time has grown to what it has become now, an English-language-based department within the university. Most of the courses focus either on business or economics, with complementary courses in law, Japanese society, sociology, and more.
ICU advertised itself as the "University of Tomorrow" when founded in 1949. Now it is considered one of the most well-rounded liberal arts colleges in the country with a strong emphasis on, you guessed it, internationality.  All professors are required to be flue
nt in both Japanese and English and all students in the liberal arts programs are taught both languages to at least a business level. The campus is beautifully located in a wooded area somewhat far from Tokyo's city center but like many Western institutions host dormitories on campus. Due to this secluded aspect students at ICU have tenderly given their university the nickname 'Isolated, Crazy and Utopia' as students have a flair for the imaginative. Both Business and Economics are offered as majors with the option and ability to pursue a double major as well as a major-minor combination.  
Keio is Japan's oldest private university and one of its most culturally significant. Its founder, Fukuzawa Yukichi, distinctly emphasized independent thought and pursuing "jitsugaku" (実学), practical learning/studies since
opening its doors in 1858; not something terribly common in a society where age-old and rigid Confucian learning was the norm.  Today, its rank fluctuates between first and second for Japanese universities with alumni who hold executive positions in Japan's business world. In 2016 a new program titled "Programme in Economics for Alliances, Research and Leadership", PEARL, was created by Keio's Faculty of Economics. This English-based program is designed to tackle Japan's contemporary economic issues starting with the need for a well-versed, highly educated, and internationally-minded workforce. Though new, Keio University has been a fixture in Japan's higher strata for economics education since the country had begun Westernizing over one hundred years ago. Look to be surrounded by like-mindedly driven individuals and be sure to enjoy Keio's vibrant social life.
Rikkyo University has aimed to create a more globalized campus over the past decade or so and has instituted a new liberal arts program titled GLAP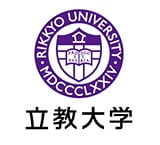 (Global Liberal Arts Program) with this in mind.  Though currently small, the aim is to host about two thousand international students in the future as well as for Rikkyo's Japanese students to engage more with study abroad programs. Rikkyo is considered to be one of the "Big Six" by critics, considering it one of the staple universities in Tokyo. Its English-based program may be new but the university has the pedigree, the funding, and the facilities to grow into one of the best in the city.
Sophia University has hosted the oldest English-based liberal arts program in Japan which gained traction immediately during the postwar years with GI's stationed in Tokyo looking to use some of their GI Bill tuition money.  Since then it has become a staple of the international education community in Japan with a healthy proportion of both Japanese, international, as well as internationalized Japanese students. The International Business and Economics degree reflects this attitude as the professorial staff combines aspects of both Western and Eastern cultures while mixing in fundamentals in the liberal arts, starting with Japanese language courses and Asian culture and history.
Though many consider Waseda to be one step behind Keio in the business world, both of these schools are prestigious and old, both have spawned Prime Ministers, and both are well-funded private schools in Tokyo, none of which are common occurrences in Japan. Though some would consider Waseda as a stronger school for research and academics in general, Keio is generally regarded as having a more proficient business program, but Waseda is still nothing to scoff at.  Waseda University is, numerically speaking, Japan's most globalized campus boasting over five thousand international students at any one time. Internationals are able to apply to seven of the thirteen undergraduate schools but business and economics degrees are only offered at the School of Political Science and Economics. Students will have the option to graduate either with a BA in Economics or Global Political Economy but all students in this faculty will have to attend classes pertaining to political science to some degree. Expect a well-rounded education and be sure to explore one of the largest libraries that Japan has to offer.
The Reputation Gained, and Future Endeavors
Some of these universities have had liberal arts programs in English for half a century, others are quite new. However, all of these schools have been at the forefront of their field for many years and most likely will be for many years to come. Whether you're interested in moving to Japan for good or just for your higher education, all of these schools are incentivized to grow their international perception and reputation. As Japan wishes to be one of the leaders in international affairs, particularly in a growing East Asian market, these schools offer the opportunity to become a part of that, and if you're interested in honing your business skills within the backdrop of English, they are willing to assist.